Nutrition at SpineGeek Chiropractic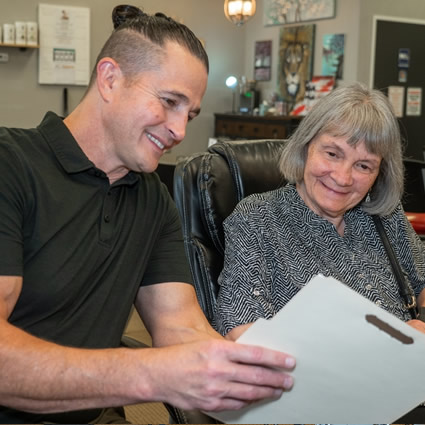 Unlock your body's ability to heal itself at SpineGeek Chiropractic. We see each person as a combination lock. We have all the numbers, but there's a certain sequence that we need to unlock your health.
Though your neighbor or friend might have taken a supplement and gotten miraculous results, that doesn't mean it'll be the same for you. Each person is different and unique. Our recommendations about nutrition will be tailored specifically to you.
Our Body-Based Techniques
Dr. Joe uses Applied Kinesiology and other forms of muscle testing, letting your body inform us on what it needs. You've got all the answers inside of you – you just need someone who knows how to interpret those answers.
Say you have two apples. They appear the same, but one is genetically modified and the other is organic. Though both apples, your brain is only able to utilize the orgainic apple to make green grass health, and it will utilize the gmo apple to make brown grass health. Our customized nutrition techniques help us discover which foods are the best choice for you.
If you're already making changes in your health, such as eating healthy or taking vitamins, you want to make sure they have positive effects on your body. Not all supplements or foods are right for everyone. We'll customize our recommendations to you, with Dr. Joe putting together a nutrition and vitamin program that's right for you.
After you've been evaluated, you'll receive a plan for the next 60 days. It's designed to get you feeling and looking your best. We'll talk about the foods you'll eat and get you set up with the supplements you need for this 60-day period. All your questions will be answered so that you know exactly what to do.
Dr. Joe is a Max Living doc, which means he teaches his patients the five essentials of health:
Mindset
Nerve system and spine
Food for fuel
Workouts
Removing toxins
That's why Dr. Joe makes nutrition recommendations to his patients. When you know what's right for your body nutritionally, you can apply it to your life and see incredible changes happen.
Attend Our Seminars
Nutrition Hours
Fridays
10:15 – 11:45 AM
If you'd like to learn more, Dr. Joe holds in-office talks on topics like the five essentials of health. They cover much more, too, such as raising a baby, heart disease and even cookie recipe night! Contact us today to find out when our next talk is about nutrition in Northglenn.
CONTACT US

Nutrition in Northglenn CO | (303) 457-8080