Meet Dr. Joseph Arvay, DC
I'm a SpineGeek, which means I am all about the spine first. That's where the power is.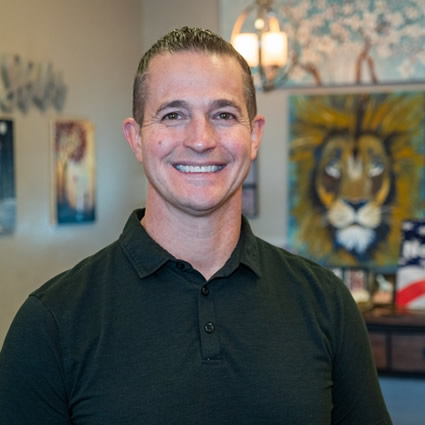 Dr. Joe's mom was a nurse. He was long intrigued by doctors and knew early on that he wanted to be a sports doctor. As an Olympic hopeful in wrestling, he beat his body up quite a bit and ended up in the chiropractor's office.
That was all it took for Dr. Joe to bartend his way through undergrad, then move to Marietta, Georgia. There, he attended Life University. The first day of school, he was informed that chiropractic was invented on September 18, 1895. A lightbulb went off in Dr. Joe's head. That is the same day as his birthday! At that moment, he knew it was meant to be, and from there, Dr. Joe fell in love with the healing principles that guide Chiropractic.
While there, he was President of Thompson Club, teaching this technique to doctors and students alike. He also had the opportunity to learn the Webster Technique from Dr. Larry Webster DC himself.
Following God's Given Path
Dr. Joe graduated from Life University with a Doctor of Chiropractic in 1991. The person who'd arrived there four years previous wasn't the same as the one who walked out. Dr. Joe took his knowledge, skills and passion and applied them to his practice.
When someone's spine is cleared, I know I've made a difference in their life. The healing power of love and Heaven go to work.
Instead of following his Olympic dreams, Dr. Joe decided he'd rather be a gold medal husband, dad, and doctor. Little did he know that years later, he'd end up at the Olympics taking care of athletes in 2012 and 2016. The athletes Dr. Joe took care of ended up bringing home the Gold medal. "I trusted God's way, and I ended up helping athletes achieve their Gold Medal dreams."
Sharing With Others
Dr. Joe loves sharing what he does with others. "There are people out there looking for what I do. But they've been lied to, bullied and told they are broken. My job is to find them, listen to their needs, and treat them like family. We are on a mission to tell and show people the truth!
Guided by his passion, Dr. Joe has participated in many organizations, such as
Past leadership, Foothills Community Church
Current member, Colorado Chiropractic Association
Co-founder of the Maximized Living Wellness Advisory Council
Member, International Chiropractic Association
Past President of the Colorado Chiropractic Wellness Alliance
Dr. Joe is also a nationally known speaker. Each year, he speaks at Max Living conferences and he is the kick off speaker at every Mile High Chiropractic Conference.
The additional qualifications Dr. Joe holds includes being a Certified Chiropractic Sports Practitioner®, which gives him a depth of experience in helping athletes.
EXPLORE OUR SERVICES
Giving Back
Dr. Joe is passionate about righting human injustices locally and all around the world. That's why he's involved with several different charities, each on their own mission to save people. These organizations include
The Keala Foundation
The Dancer Love Foundation
Operation Underground Railroad
Compassion International
Dr. Joe has also traveled to Zimbabwe twice. There, he helped establish a chiropractic clinic to bring health and healing to more people and worked with area churches.
A Life That's Full, Vibrant and Active
Since 1989, Dr. Joe has been married to his wife, Ilene. They have four kids: Leah, Mae, Grant and Luke. They have all worked at the office at various times. Mae is in chiropractic college at Life University, and Luke intends to become a chiropractor, too.
When it's time for fun, Dr. Joe does CrossFit. It's his goal to one day make it to the CrossFit Games Master Division. He's a creative person and loves to write, with a hope to publish books and teach around the world. One day, it's his vision to have a training center in Colorado, where he can teach and train others about the SpineGeek way of life.
Don't wait another minute to improve your health. Contact SpineGeek Chiropractic today!

Dr. Joseph Arvay DC | (303) 457-8080